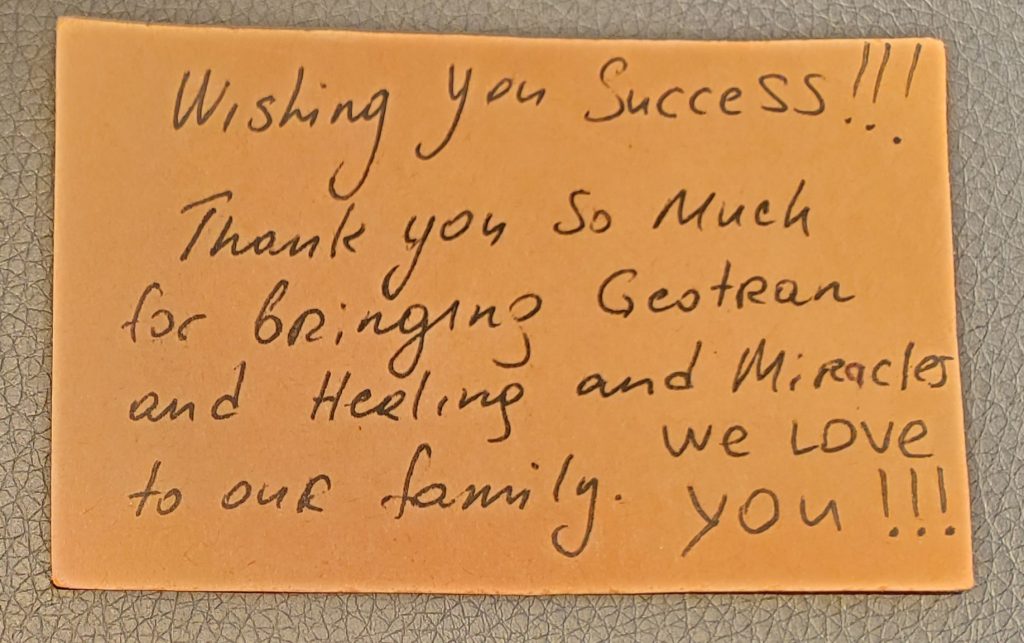 R. & R.
People take care of their cars, homes, bodies. Let's not leave the soul last. We need to be willing to change, willing to know the truth and willing to hear the truth. We can get out of our troubles only if we face the truth. Yesterday's session was fantastic. You're really good, for real. I had such big revelations. I think even you were surprised, right? It was super…I liked it a lot….I feel much better today, and even the World looks nicer to me.
A. Hungary
I use to be in a bad mood all the time, cried a lot, didn't want to talk to anybody…Than one day after a fight with my oldest sun, I fell ill. I got in contact with you after that incident. I felt super after every session with you. I think I had four all together. I haven't been feeling down ever since, thank God, despite getting fired from my job, and my husband getting sick. I found a new job, and I'm standing my ground. Thank you.
M. Switzerland
Geotran is so liberating. I had spoken to so many people about my problems, but other more conventional healing methods/therapy is just lacking something. I'm truly very thankful for what you've done for me. It did me a World of good. I hope the new locations are helping more people reach Geotran. Yeah, it's really amazing how you came into my life when you did.
J. U.S.
Geotran is absolutely miraculous. It addresses the causes of any symptoms one might have, and clears all the issues associated. It works in a blink of an eye and you're forever changed. Of course the catch is that you have to want to change, want to take care of yourself, and want to lead the best life possible or even just a better life that you have. It's astounding that it's even possible to address such a deep level of ourselves, and if it's come into your life, take full advantage of such a powerful and transformative opportunity to be free of any and every stubborn negative thought, feeling or sickness that plaques your life.
A. U.S.
Marija. I just want to tell you that interestingly enough I got a very dark ovulation predictor test this cycle, several days after I met with you. Darker than I have had in two years probably. I don't yet know the end result, but I do know that I believe that you definitely opened something up in my brain and body. I will let you know if I have any other news.
S. U.S.
Hi Marija, I just wanted to apologize for not being able to coordinate a larger crowd for you last night. I know I speak on behalf of the three of us, that what we learned and discovered about Geotran and ourselves last night was extraordinary. Your knowledge and kindness shined through. I look forward to seeing you soon, and maybe come in for a session with my son, if I can convince him!!!
Andrea, U.S.
I know Marija for a few years now, and I will take every chance that I get to see her workshops. At first I was a little skeptical, but joined one of her workshops. It was fascinating how negative energy can be turned away, and a feeling of inner happiness arrives. Marija was also helping me to cope with anxiety after a difficult breakup, which I'm very grateful for. There is no question that Marija can help anyone who needs help with stabilizing their mental health or is going through something difficult in their lives. Very highly recommend Marija and her amazing service to everyone.
Maggie Page, U.S.
I had the pleasure of attending one of Marija's presentations on Geotran last week and I have to say, I was very impressed. I went into it not knowing anything about Geotran, but Marija was able to clearly and effectively explain what it is through lecture and interaction. I left feeling emotionally lighter and spiritually full. Because of this I was able to have one of the best sleeps that night than I had had in a very long time.
A., U.S.
Client's own Q. & A. below, M.S.
Q: What has been your experience with Geotran?
A: My whole family has used Geotran for many years – starting with single sessions and eventually pursuing more education and training. I personally find it very helpful to uncover the subconscious damage and misinformation we all carry, and thereby realigning and reconnecting the body and mind to a more peaceful, centered and purposeful life. Everyone seems to get something different from it – but it always results in some form of change and growth.
Q: Can you comment on your experience working with Marija Santo?
A: Marija was the one who started my family's journey into Geotran. Over the years she has grown her intuition and her skills in working with the tools of Geotran. It took some time for me to actually understand the terminology and what was going on but she has remained focused and diligent in pursuing the truth with a clarity of purpose. So even when you don't know where you are going, she certainly does!  And when you fall off the horse she will pick you up!
Q: What are your top 3 reasons why someone should pursue Geotran?
A:  Clarity, Truth, Peace
D., U.S.
Thank you Marija for helping me clear, so I can create.  Y.,  U.S.
I went to Marija with a severe case of panic attacks. I had crazy dreams, could not sleep, could not breath, and I was very scared. Marija a long time Geotran practitioner has a holistic, soul, mind, body approach to this problem. She's acting on the source of the problem, rather than just dealing with the symptoms. After about four intense sessions with her my dreams where not a nightmare anymore, and I could sleep good and uninterrupted. Thank you Marija, and thank you Geotran.  R.T.,   U.S.