I am a Certified Naturopath specializing in nutrition and herbology, and a Geotran teacher and practitioner. I have a background in law from Eastern Europe, and worked as a paralegal in the United States for a number of years. I met a person at one of my paralegal jobs, who introduced me to my passion and mission: Natural Health, and Geotran.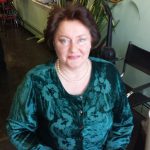 I grew up in the former Yugoslavia, and came to the United States thirty one years ago. Finding alternative health and spirituality here is a gift from above for me, and I would like to touch as many lives as possible. My goal is to keep families together, people happy, healthy, in choice and connected. I founded Shine Naturally Now in 2003.
I have been a Geotran practitioner for twenty years, and touched the lives of thousands. Geotran is a hands on technique based on sacred geometry and quantum physics. It clears past negative experiences in minutes sometimes in seconds, and integrates future goals that clients set themselves in a playful, fun and easy manner. It is easily combined with any other healing modality, or profession.
I have a daughter, who graduated Cinema, Arts and Science at Columbia College, Chicago and currently she lives in California and is a film director.

My hobbies are kayaking, biking, dancing, gardening and pressed flowers.  In the new year I'm planning to take singing lessons, learn to play the guitar and learn French.
I speak fluent Hungarian and Serbo – Croatian, and sessions are available in these languages also.